I have two brothers.
As the middle child of three boys, our house was, and still is, loud, rough, and entertaining. A week didn't go by without a fight in the hallway or a joke gone a little bit too far. In other words, tensions were high. While I'm not sure exactly where this tension stemmed from, I'm fairly confident one thing surely factored into this equation. This is something that plagues boys and girls alike and drives people to do things they might not have otherwise done. The desire to succeed at all costs, to triumph over the opposition.
Competition baby. The lifeblood of a three-boy household.
I competed with my brothers in everything. From GameCube to weight lifting to who could find a pair of socks in the laundry quickest, I was always competing with them. And while this competition made our house enjoyable, it also made us look anywhere to find an edge over the other person.
It seems like Netflix too is searching the nooks and crannies of its own industry as competition ramps up.
This week, Netflix took another hit as Disney released information about its own new video-streaming service, Disney+. While there were not specific details about content or packaging, simply the notion of increased competition in an already contentious industry was enough to impact Netflix's stock. The service is slated to debut in late 2019, hosting "a rich array of original Disney, Pixar, Marvel, Star Wars and National Geographic content," as well as completely new material.
It's pretty clear what this means for Netflix: more competition for clients and for content. Netflix currently hosts a number of Disney productions, and its likely these will be stripped from the platform when Disney+ goes live. I'm unsure if Disney will be able to compete with the wide array of loyal customers at Netflix and diverse content, but if they can price competitively, they might just shake up the market.
To combat this, Netflix has taken a two prong approach: debuting new content in movie theaters as well as expanding internationally. The former of these two options is largely new to Netflix, while the latter is something that Netflix has been working on for a few years. More on their international efforts later.
In terms of movie theater showings,  Netflix is taking an unconventional move to stream its original content in movie theaters that it once turned way. A Yahoo Finance article reports that Netflix plans to debut three films in theaters throughout November and December. These films will stay in theaters for only a few weeks, much shorter than other movies, before they join Netflix's online platform. In the past, Netflix has released films in theaters, but has also released them on the platform for viewing on the same day.
I think this comes out of necessity for funding its new content. Netflix needs a new stream of revenue, as their free cash flows is seeing a serious negative number. I don't think this is a panic move, but rather an attempt to spread their content further and get more bang for their buck.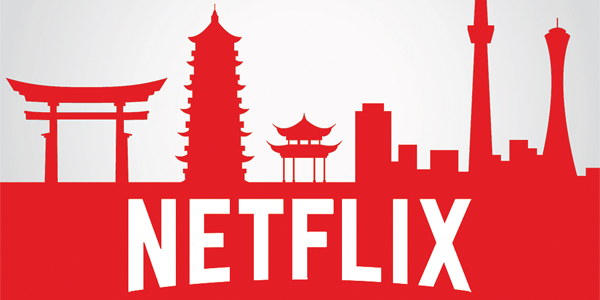 Now for their international play. According to MarketWatch, Netflix is ramping up its efforts in Asia, set to produce seventeen new Asian productions. These will be centered around Asian culture and geared towards an Asian audience but will be available worldwide. The content for these varies from paranormal investigations to live action movies.
This, too, is not a surprising move by Netflix. Despite its controversial borders, Asia houses close to 4.5 billion people, and while not all of these people have access to the financial or infrastructural needs to support Netflix, a significant enough portion is available for Netflix to capture. This aligns with Netflix's overall plan to expand internationally, tapping to networks all across the globe.
Needless to say, Netflix is feeling the heat. As a consumer, this is fun to watch, for the competition means we will get more competitively priced products and have an array of choices.
But if eighteen years in a competitive household has taught me anything, this is only the beginning. There's about to be some haymakers coming in the future, and I'm excited to see the fireworks from the safety of my dorm.
Until next week.
Source:
https://www.marketwatch.com/story/netflix-is-doubling-down-on-asia-with-17-new-originals-2018-11-08?siteid=yhoof2&yptr=yahoo
https://finance.yahoo.com/news/netflix-embracing-theaters-once-spurned-171900680.html
https://www.fool.com/investing/2018/11/09/why-netflix-inc-shares-fell-6-today.aspx